WhatsApp Web not working on Chrome
I recently tried out the WhatsApp Web function on Chrome for Desktop on my Windows 8.1 machine.  It kept coming up with the below screen indicating that it wasn't detecting that I actually was using Google Chrome.  I am using Chrome, Chrome is the latest version and I have cleared all caches and cookies.  So WTF right?!
The solution – Disable plugins/extensions
It turns out that I had a Google Chrome Extension which was interfering.  In my case it was the excellent FirePHP which is a tool I frequently use in my web development work.  What happens though is that extension modifies headers sent to the requested website which in the case of WhatsApp Web made it think that the browser wasn't Chrome.  Having disabled the offending plugin, it works as intended.  So try selectively disabling your Chrome Extensions to see if that has any impact and then reload the WhatsApp Web page and see if you have .
How to disable Extensions in Google Chrome
You can simply copy chrome://extensions/ into your address bar and navigato to carry on from Step 3 below or do all the steps.
In the top-right corner of the browser toolbar, click the Chrome menu icon
Select More tools > Extensions.
To turn off an extension, uncheck the Enabled checkbox next to it. To turn on an extension, simply check the box.
For anyone running into the same problem as I did with FirePHP specifically you can simply right-click on the extension in your toolbar and select Options or click on Options in the Extensions menu  and it will pop-up with a menu like the one below:-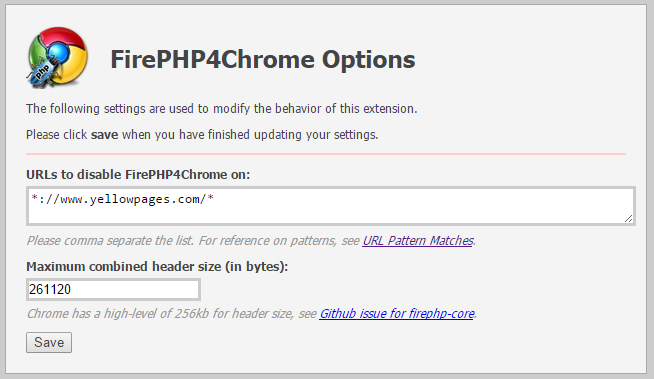 Here you can add the link to WhatsApp Web to prevent FirePHP modifying headers for just that page.